Secrets behind the color combinations
MIYAZAWA

What are the secrets behind La Poudre's color combinations?
ABSOLUTE CLARITY.
ALL DAY LONG.
SILKY VEIL OF COLORS THAT BRIGHTEN UP EVERY COMPLECTION.
MATTE

01

BRIGHTENING

ELEGANT

06

TRANCELUCENT

AIRY
PEARLY

04

RADIANT

CLEAR

05

SHIMMERING

GORGEOUS
OONISHI

La Poudre combines colors with different effects, which when mixed together impart an unrivalled diaphanous quality to the skin. Before La Poudre, Elegance offered face powders in single hues like pink and purple, which were quite popular. The idea of combining these different-colored powders into a single product gave birth to the first-generation La Poudre No. I. La Poudre was and still is painstakingly handmade by highly skilled artisans, which I believe is the secret behind its gorgeous and highly attractive product appearance, and its unparalleled translucency on the skin.

MIYAZAWA

So a lot more goes into the production process than just color combination.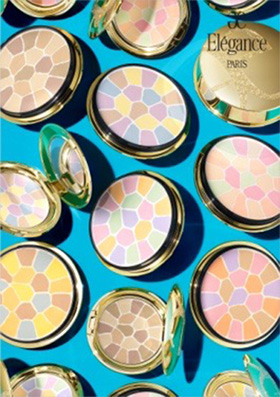 Performance
MIYAZAWA

One of the appeals of La Poudre is its superior performance. You can absolutely rely on it to resist shine and obscure pores without requiring touch-ups all day. What makes a face powder so resistant to perspiration and sebum?

OONISHI

La Poudre contains water-and-oil-repelling powder, which prevents the spoiling and dulling of makeup caused by perspiration and sebum. The powder also has excellent skin adhesion, which makes it close-fitting yet visibly airy and translucent on the skin. This is why makeup stays put and the skin immaculate no matter how much you sweat!

MIYAZAWA

I see, so that's why the makeup layer retains its clarity, even under mid-summer conditions. Now that I am better acquainted with its product features, I feel I can recommend La Poudre to customers with greater confidence.
Closing

OONISHI

Discussing the product with a makeup artist who works with customers day in and day out has given me a lot of insight. Thank you so much.

MIYAZAWA

I look forward to helping more and more aspiring beauties learn about and use La Poudre, 20, 30, 50 years from now and beyond.