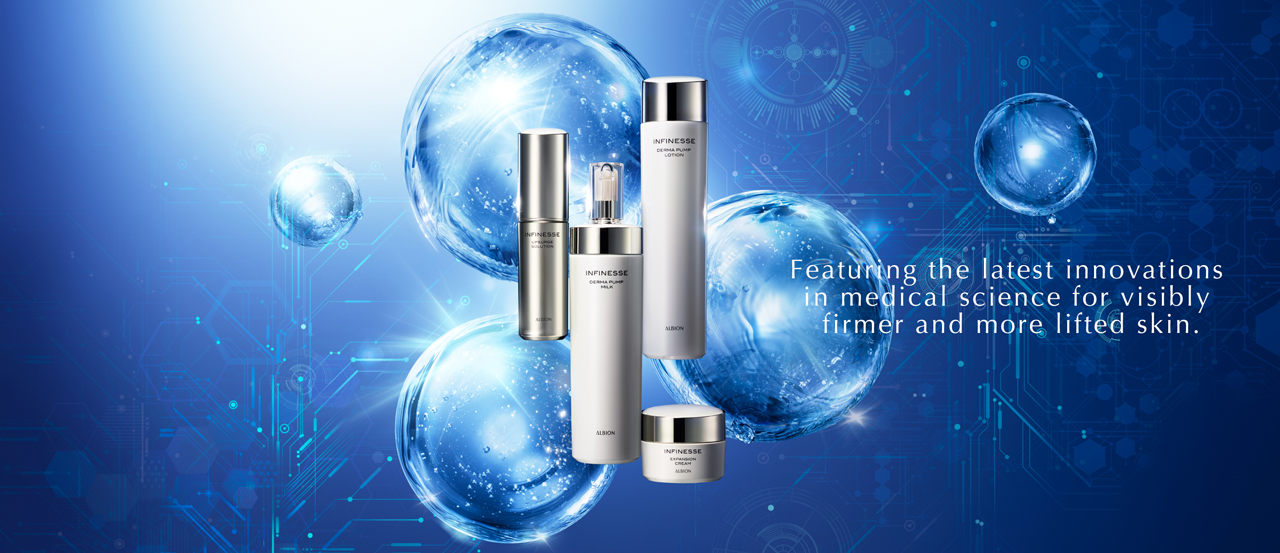 Medical Science for "Skin Firmness"
Leveraging on breakthrough science and technology,
INFINESSE promotes the growth of dermis to regenerate firmness from deep within.

Each item in this anti-aging series is inspired by cosmetics treatments,
delivering fast and tangible results by targeting the deeper layers of the skin.

Experience a youthful transformation with visibly
firmer and more lifted skin, revealing a beautiful sculpted look.
Common Treatment 1
Brings firm and tight skin
OSK9 - The active ingredient for firmness at the fastest speed -

OSK9 is know as Acetyl Pentapeptide-55 Amide (moisturizing ingredient).
A research by ALBION led to the development of OSK9 as a cosmetics ingredient.
OSK9 is the fruit of labor in peptide research, helps to boost about skin firmness.
Common Treatment 2
Improving the skin environment
Resveratrol - Antioxidant -

Resveratrol boosts the power of antioxidant and helps to reduce skin inflammation, inhibit melanin production, and create healthy skin conditions.
Mei Gui Hua extract  
- Collagen & elastin dissolution controller -

Extract of flower buds of Rosa rugosa. The extract inhibits degradation of collagen and elastin to prevent degradation of dermal fibers.
Royal jelly extract
- Anti-aging care for blood vessels -

Royal jelly helps to supply energy throughout the dermis by fortifying damaged blood vessels. Royal jelly is rich in vitamins, minerals, essential amino acids and other nutrients.
Individual Product Treatment
Inspired by Medical Science in Cosmetic Treatment

Each item in this series is inspired by cosmetic treatments,
delivering visible lifting and firming benefits to the skin.
- DAILY CARE -

STEP 1 Cleansing

Eliminating Cleansing Milk
(Inspired by Electroporation)

Deep Force Wash
(Inspired by Carbon Peeling)
STEP 2 Softening

Derma Pump Milk
(Inspired by Baby Collagen Injection)


STEP 3 Refining

Derma Pump Lotion
(Inspired by Vital Injection)
STEP 4 Activating

Upsurge Solution
(Inspired by Spring Thread Lift )

Expansion Cream
(Inspired by Fibroblast Growth Factor Injection)
- SPECIAL CARE -

Serum Peeling
(Inspired by Chemical Peeling)

[NEW] Injector OSK
(Inspired by cosmetic injections)