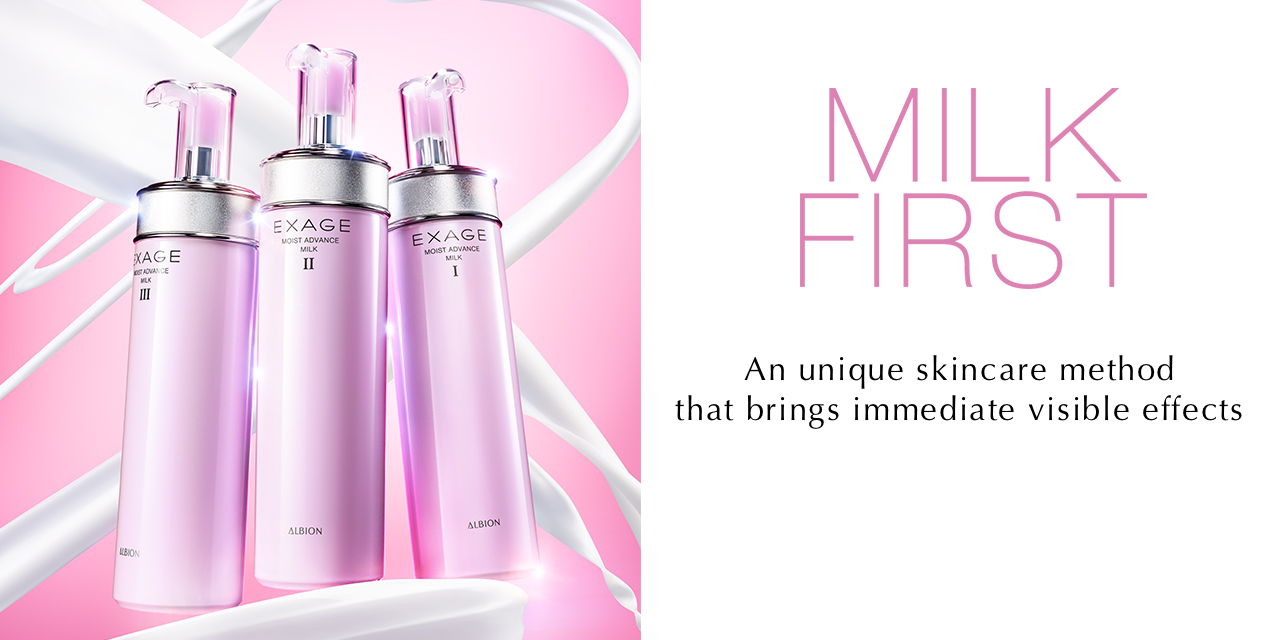 The key to "Milk First"
The Best Timing and The Best Moisture Balance
3 types of EXAGE Balancing Milk to fit different structures of stratum corneum
MOIST ADVANCE MILK I (For Oily Skin)
Contains fine float oil, tightens pores and skin texture from inside and makes the skin fine-textured and smooth.
MOIST ADVANCE MILK II (For Normal Skin)
Contains moist stock oil, achieves plumped skin brimming with generous moisture.
MOIST ADVANCE MILK III (For Dry Skin)
Contains rich repair oil, achieves supple skin infused with enriched moisture.
Three pumps to give your skin the moisture it needs
ALBION Balancing Milk is designed to thoroughly moisturize from the surface of the skin down through the whole stratum corneum, which can have as many as 10 layers. This is why three pumps (one teaspoonful) of Balancing Milk are needed every application.
Apply with a cotton pad for complete delivery to the entire stratum corneum
The skin's surface is finely grained and covered with pores. Using a cotton pad to apply Balancing Milk is far more effective than applying by hand because it ensures even, efficient delivery of humectants to the entire stratum corneum.

Cotton Pads for Milk First
Special cotton pads specifically developed to give you the most comfortable Balancing Milk application.