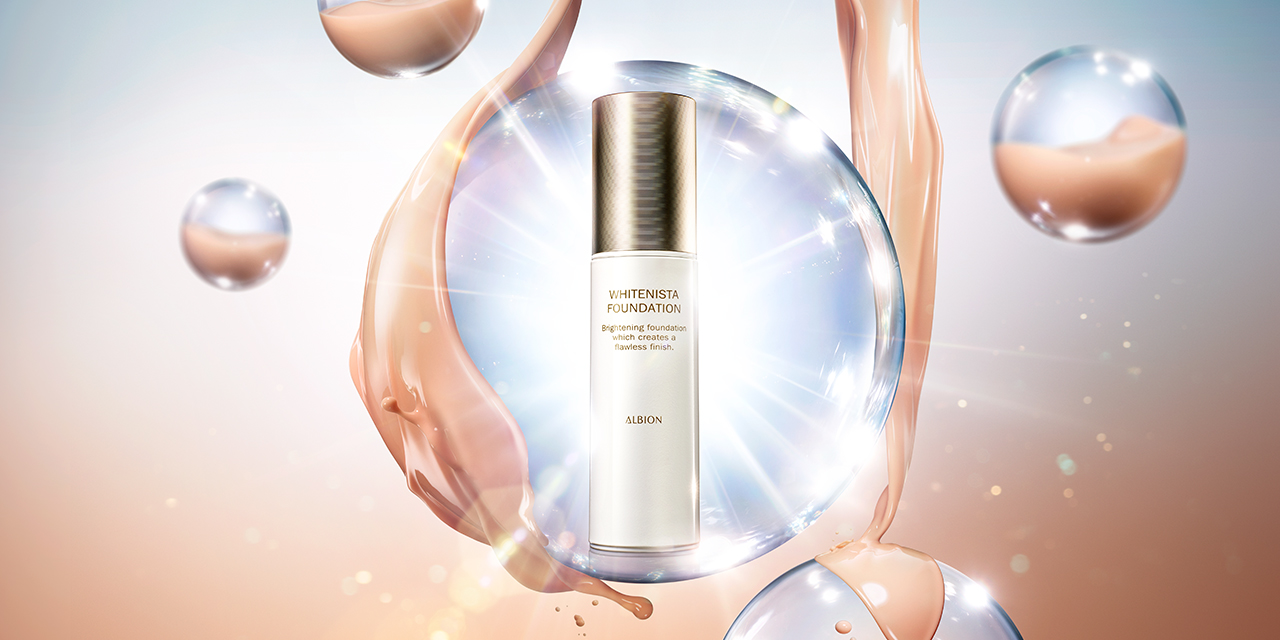 A foundation with serious whitening benefits
Achieves the look of fine-textured, smooth, bright and pore-free* skin.
New
 ALBION WHITENISTA FOUNDATION
 (Whitening Foundation)
 30ml 6 shades ¥6,000 (Tax excluded)
 SPF30 PA++ Quasi drug


*Visual effect created by makeup
* Whitening refers to skincare aimed at curbing melanin production and preventing UV-induced spots and freckles.
*SPF (Sun Protection Factor) and PA (Protection Grade of UVA) are international ratings of ultraviolet ray protection for sunscreen, measured by applying sunscreen to a thickness of 2 mg per 1 cm².
The product base of Whitenista Foundation is formulated with active whitening agents that offer coverage for the skin.
Contains active whitening agent tranexamic acid.
Brings a smooth appearance to the skin surface for a pore-free* finish.



*Visual effect created by makeup
Images are for illustrative purposes only
Loaded with the unique benefits of whitening foundation
Color chat
Apply without primer for effortless perfection

Use your middle and ring fingers.
Place foundation in the center of both cheeks, and blend outward with a light touch.
Blend with two fingers.

Your middle and ring fingers combined provide just enough pressure for a flawless result.
Apply an extra layer to areas with uneven skin tone

Repeat the application for the cheekbones and other areas prone to UV-induced damage.
Foundation campaign 2019
EXAGE WHITE Whitening Powder giveaway!

From February 18 (Mon), 2019
Free gift of "EXAGE WHITE Whitening Powder (3.5 g) Quasi-drug" with purchases of 5,000 yen (w/o tax) or more that include ALBION foundations..


* Also applicable to purchases of Smartskin White Rare Kit 2019 (limited-edition product).
* Not applicable to purchases of EXCIA Foundations.
*Limited to one free gift per customer. Offer is subject to availability.

*This campaign does not apply to Duty Free Shops in Kansai International Airport and Haneda Airport