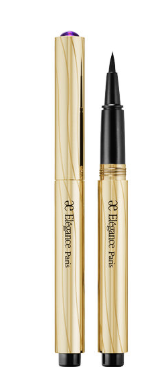 10
A liquid eyeliner with an extra-fine brush tip for executing beautiful lines at will.
Fluid product base glides on smoothly for effortless lines at will.
 
Extra-fine, resilient brush tip readily produces both delicate and bold lines.

Close-fitting, fast-drying, long-wearing formula keeps bleeding and creasing at bay
Shades: 1 shade
Volume: 6.0 g
How to use

Use with Elegance Eyeliner Perfect Holder sold separately.
Before each use, shake the holder several times before removing the cap to thoroughly mix
the contents.
Slowly depress the push button at the end of the holder once to dispense enough liquid fora single application.
Neaten the brush tip, and draw along the roots of the eyelids, working outward from the inner corner of the eye.