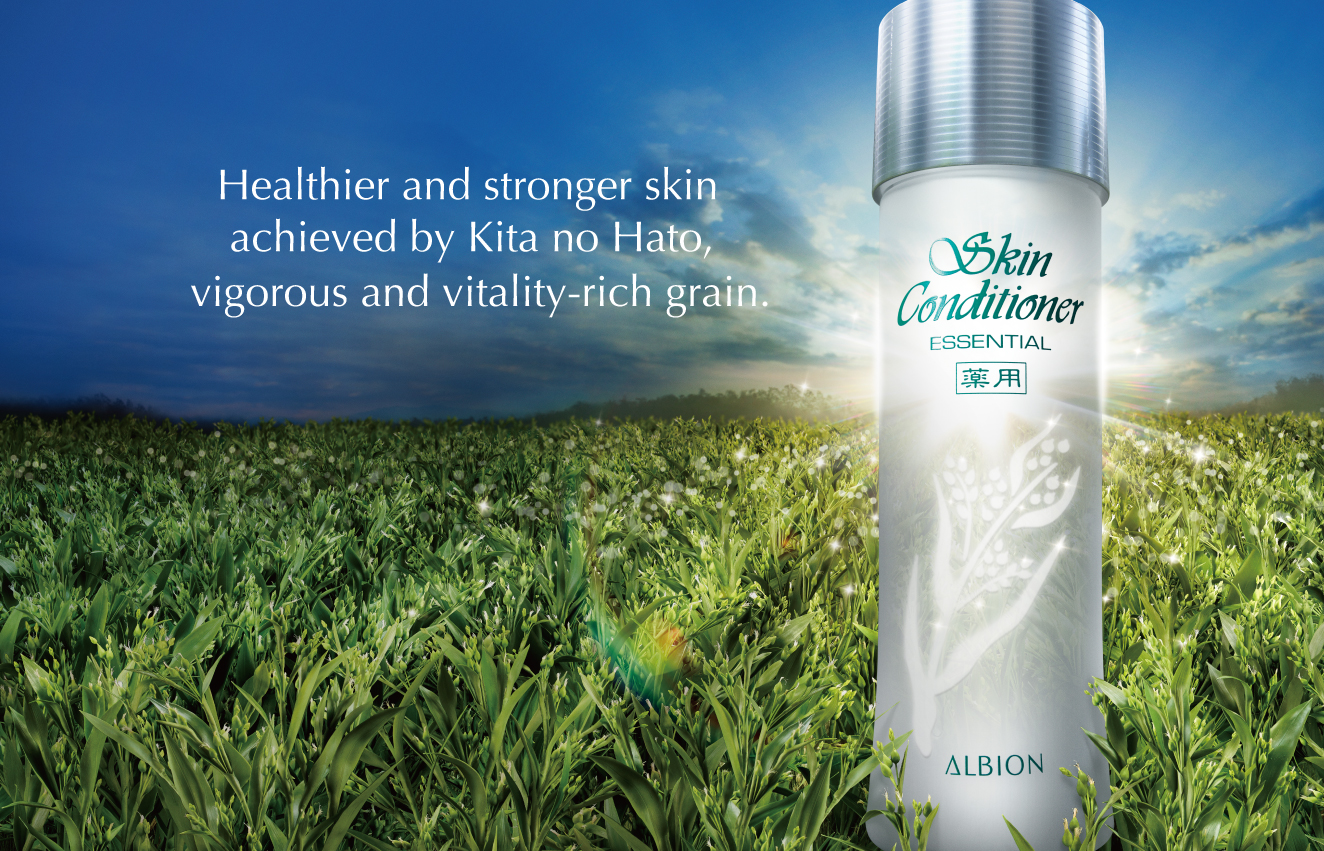 "Kita no Hato" - the selected ingredient
ALBION has finally succeeded in cultivating organic Kita no Hato at a certified farm in Hokkaido.

Hokkaido, the northern part of Japan with expansive and majestic nature.Cultivation in the frigid environment by lots of love and care from farmers makes a grain strong and nutrient-rich; the grain named "Kita no Hato" a variety of Job's Tears.-
Characteristics of Kita no Hato
Cultivation environment

Job's Tears is a plant native to temperate and tropical Asia therefore cold environment makes Job's Tears hard to be grown successfully. Besides the frigid environment that the drastic temperature changes in the morning and the night is not literally suited to be grown for Job's Tears.
Quality
Kita no Hato contains more rich amount of linolieic acid and also iron and calcium than regular Job's tears.
Organic farming
Organic farming is achieved by the environment in Hokkaido and tended by experienced farmers. No agricultural chemicals means grown as naturally as possible.
Special extraction process
For the Kita no Hato (Job's tears) extract used in Skin Conditioner, we used a process called "BAKUSAI" (Blasting), designed to extract concentrated amounts of effective ingredients. This enables the extraction of a concentrated extract that exerts outstanding effects on the skin.
Products
SKIN CONDITIONER ESSENTIAL
ALBION's long-selling lotion,A lifelong companion for hydrated, healthy skin.

HOW TO USE
1. Take the equivalent of one teaspoonful on a cotton pad and gently pat the face with the pad until the skin feels cool, working from the center of the face outward in upward, lifting motions.
2. Using the palms, press any excess toner remaining on the skin to facilitate penetration.
SKIN CONDITIONER FACIAL SOAP N
The fine, rich foam gently washes while treating the skin.

HOW TO USE
Lather well in cold or lukewarm water and wash the face as you softly cover it in foam. Rinse thoroughly.

*Apply on a wet face when you use it as a face wash. To remove makeup, apply on a dry face.
* To remove waterproof and long-lasting makeup, use a makeup remover before using the soap.toner remaining on the skin to facilitate penetration.