INFINESSE WHITE | BALANCING MILK
DAILY CARE
WHITENING PUMP MILK W
NEWWHITENING PUMP MILK W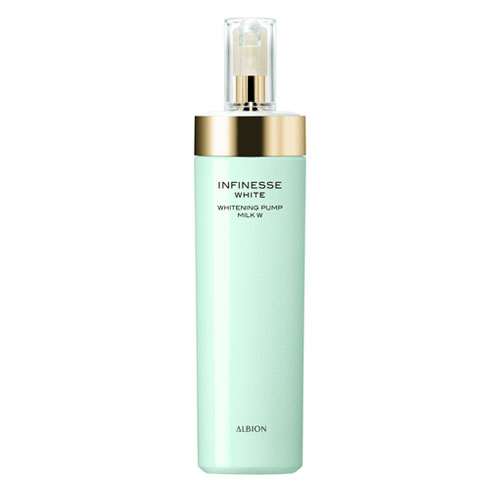 An anti-wrinkle and brightening milk designed to control excessive capillary regeneration and promote dark-spot-free vibrant bright skin replete with buoyant firmness.
1. Controls UV-induced excessive capillary regeneration, eliminates melanin "caps," and increases
the internal density of the dermis to realize vibrant brightness and buoyant firmness from inside the skin.
2. Instantly restores the stratum corneum to its fully elastic, moisturized condition, and delivers buoyant firmness and
vibrant brightness.
3. Soothingly rich formula spreads fluidly with melting ease to quickly penetrate the skin, instantly and generously
hydrating the skin for noticeable vibrant brightness and buoyant firmness.
How to use

After washing the face, take three pumps amount on a cotton pad, distribute across the forehead, cheeks, nose and chin, and apply over the entire face.