SUPER UV CUT
NON-CHEMICAL CREAM
NEW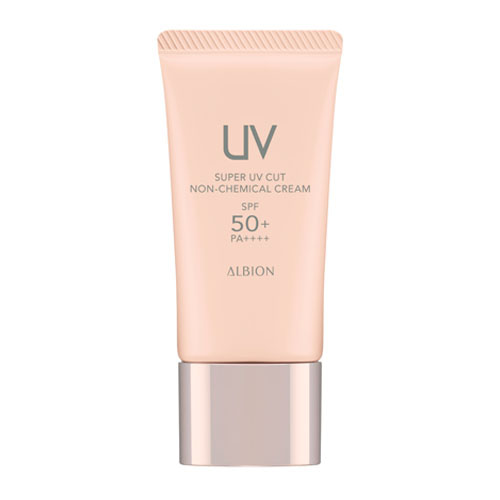 Mild and gentle non-chemical* sunscreen and makeup primer. Fortifies the skin's barrier functions to keep it protected from skin problems.
*Non-chemical: A sunscreen formula free of chemical UV filters
1. Water-proof, chemical-free formula with superior sunscreen benefits powerfully protects the skin against UV rays.
2. Excellent skincare benefits fortify the skin's barrier functions to keep it healthy and protected from UV-induced damage.
3. Mild and gentle to use. Spreads pleasantly to fit the skin snugly for a bright, smooth, well-conditioned result.
How to use

Take a moderate amount onto the fingertips and spread evenly over the face or body.
Reapply as needed after perspiring or staying outdoors for an extended period.
*Applying an insufficient amount of the product limits the UV protection it provides.