BRAND HISTORY

In 1956, a time when Japan has yet to become an affluent country, ALBION was born with a grand dream of becoming the No. 1 luxury cosmetics manufacturer in Japan and the world. Today, many customers, both in and outside of Japan, purchase Balancing Milk, Skin Conditioner and other ALBION products. Like a dream come true, the founding aspiration has been achieved gradually.
5 First That Paved The Way To Today's ALBION
Tradition 1
PRIAN (Balancing Milk)
Laying The Foundation For The "milk-first" System
PRIAN was the product that helped establish ALBION as a brand that is renowned for its Balancing Milk. The most distinctive characteristic of PRIAN was that it established an innovative value for Balancing Milk that defied the conventional wisdom.
Back in the day, most people first removed their makeup with a cleanser, and then wiped with toner and supplied nourishment with Balancing Milk and cream moisturiser. ALBION thoroughly reviewed these conventional steps and drew on its experience, conducting a series of tests on skin to come up with an original beauty system of applying Balancing Milk immediately after cleansing the face.
ALBION discovered that using Balancing Milk right after cleansing leaves the skin translucent and well-hydrated, while leaving it soft and supple like velvet.
The discovery was later supported by ALBION beauty method. This theory said that applying ALBION Balancing Milk, which has moisture balance close to that of the outer layer of the skin, helps freshly cleansed face to achieve an ideal balance. ALBION's original skincare system was thus established.
Over the course of its 60-year history, ALBION has produced many Balancing Milks, each of which is unique. Today, ALBION offers Balancing Milk in each of its series and you can choose one that is most suitable for your skin condition to achieve the ideal skin you want.
Tradition 2
ORDLIN (Lotion)
Triggering The Birth Of Skin Conditioner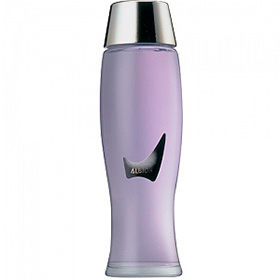 ORDLIN, meaning "rich nutrients," was a feminine, violet-coloured lotion that was gentle on both the eye and the skin. Users of all skin types felt comfortable using this product.
In 1974, as Japan was prospering and women were starting to play active roles in the society, Skin Conditioner (also known as SkiCon) made its debut. Featuring active skin benefits, Skin Conditioner provided a contrast to the gentle ORDLIN.
Back then, Skin Conditioner's refreshing sensation was a novelty that took many by surprise. As they started to use it, they realised the sensation was more pleasurable than imagined, and wanted to continue using the product. The surprise and the experience helped Skin Conditioner win a large following of customers. Today, ALBION Skin Conditioner continues to provide opportunities to reach out to new customers and remains as the brand's best-selling, signature lotion.
Tradition 3
PANACIAN PACK (Peeling facial pack)
A product of the latest technologies of the time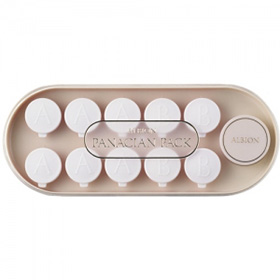 The name "PANACIAN," meaning "demonstrating the best benefits," was chosen as the product that seals the skin to soften its cells and helps maintain a normal metabolic rhythm.
Cells grow every day and the normal daily skincare regimen is insufficient to supply their needs. This peeling facial pack covers the face with a thin layer to seal in moisture. Then the layer is peeled off, helping the skin to regenerate. The creation of this epoch-making thin layer akin to plastic wrap was technically very difficult.
ALBION, however, overcame all difficulties to develop the peeling pack. The visible benefits of the item were well-received at stores, where customers lined up to try it. The PANACIAN PACK marked the start of ALBION's value creation, bringing being into things that have never existed before. With the evolution of products since then, there is a wide variety of facial masks available today, including serum masks, cream packs and rinse-off masks.
Tradition 4
PLANCE
Highly Feminine Cream Moisturiser
PLANCE was launched as a nourishing cream moisturiser containing an abundant amount of luxurious ingredients, now called "aging-care."* PLANCE was a pioneering luxury cream designed to help attain the ideal skin by solving all types of skin concerns.
Cream Moisturiser, as an important skincare item, was later developed and diversified with products ranging from those dedicated to whitening care to those focusing on wrinkles. To mark its 60th anniversary, ALBION launched the EX-VIE GINZA cream which incorporates the most sophisticated science in the brand's history. EX-VIE GINZA was designed to awaken the skin through the best technology, best texture and best fragrance, not to mention the most active ingredients. You can massage EX-VIE GINZA onto your skin at the end of the day and your skin will be in its best condition the next morning. The blissful happiness will make you look forward to experience it again and again.
* Aging care: skin care according to age
Tradition 5
SKIN FATT
Massage Indispensable For Skin Beautification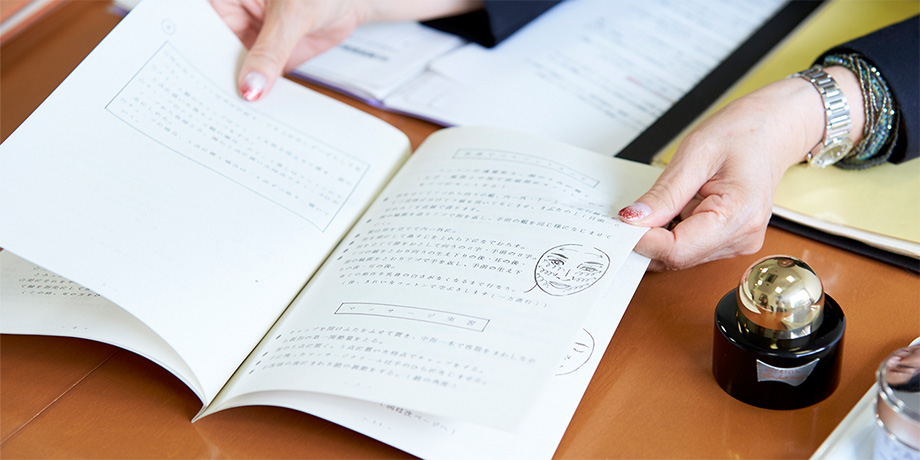 ALBION proposes massage as a facial shaping exercise. SKIN FATT, named to imply it has the "closest affinity to skin fat," is a massage cream with a luxurious texture that melts into the skin at body temperature. To reap even better benefits from the cream, ALBION developed a unique massage method that loosens stiff muscles to improve blood circulation and the skin's metabolism and presses acupressure points on the face for relaxation. This is a key method for skin beautification.
Massaging is offered according to the skin condition of individual customers in order to produce both glowing and radiant skin as it is one of ALBION's "OMOTENASHI" practices.
The first group of products was not just epoch-making. They have been the source of many unfolding stories that hold a special place in the 60-year history of ALBION and have led to creative product development. Thorough training for the beauty advisors who introduce luxury products and the OMOTENASHI spirit will continue to be passed on to future generations to deliver "beautiful impressions."