EXCIA BRIGHTENING | SERUM
SPECIAL CARE
BRIGHTENING IMMACULATE SERUM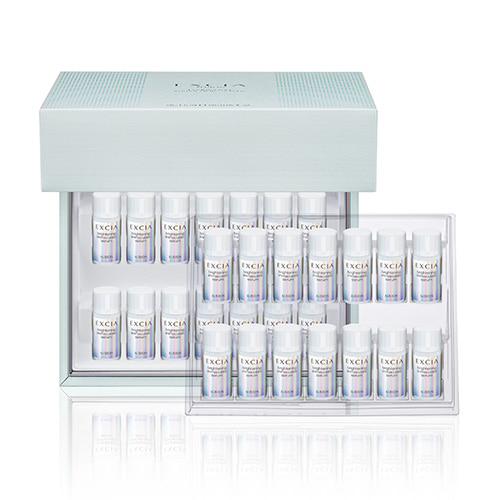 Fast, reliable and direct route to ultimate brightness. Twenty-eight doses of intensive brightening serum for crystal-clear, radiant brightness.
1. New Nanocesta "Immaculate EXD" directly reaches and seamlessly adheres to melanocytes, unfailingly and powerfully suppressing melanin production to promote immaculate brightness with lasting radiance. 
2. Contains two types of capsules with intensive and highly efficient brightening actions capable of thoroughly eliminating the causes of dark spots and tonal unevenness.
3. Mellow and thick yogurt gel base blends into the skin to penetrate deeply, offering an enriching sensation that leaves the skin fully moisturized, plump, springy, firm, fine-textured, smooth and brighter.
How to use

After Milk Lotion and Lotion/Toner, uncap one vial and pour out half of the vial contents first. Gently massage onto the entire face in a circular motion.

After the product is absorbed, pour the remaining half and massage into the entire face in a circular motion.

Note: One vial contains the amount needed for one use. Once opened, use up the contents immediately.