INFINESSE WHITE | SPECIAL CARE
SPECIAL CARE
TURN WHITE CHARGER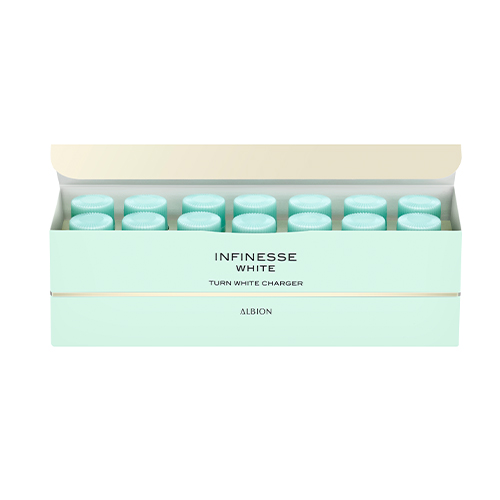 Intensive treatment to address "triple skin dullness and discoloration" for brightening both the epidermis and dermis.
Coming in vials, this special brightening serum instantly achieves brilliantly bright and firm skin.
1. Quickly delivers generous amounts of whitening ingredients to deeper layers of the skin to address the three skin-dulling and darkening factors for intensive whitening. By activating all skin layers, Turn White Charger instantly achieves brilliantly white and firm skin.
2. With a refreshing, mild sensation, Turn White Charger penetrates the skin as if being sucked into it. The skin will be brilliantly white from deep within as well as pleasantly firm, with the texture plumped and refined.
How to use

One vial contains two doses.
After toner or lotion, take 1 ml (half a vial) onto the palm and apply over the entire face. To store the remaining half, replace the cap securely and store the vial in the box.
May be used before massage or mask.
Notes
* Once a vial has been opened, the content should be consumed as soon as possible to retain the efficacy of vitamin A derivative (vitamin A oil).
* To maintain the efficacy of vitamin A derivative (vitamin A oil), store the product in its box, with the cap securely replaced.